OpenBIM
From Wiki.OSArch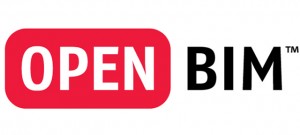 OpenBIM is the practice of BIM in a vendor-agnostic manner. For BIM to be vendor-agnostic, BIM data must be defined using an open data standard, and BIM practices should follow standardised workflows. An example of OpenBIM involves sharing BIM data using IFC and DXF file formats. An example of closed, or proprietary BIM, is sharing BIM data using RVT and DWG file formats.
The use of the word "open" in describing technologies has existed for a long time and originated from free software. It most popularly began in the term "open source" to describe the practices of free software from the point of view of commercial benefit[1]. Despite the ideologically different approach, the term "open source" was used to describe many characteristics seen in free software, such as community collaboration and interoperability. Since then, we've seen the adoption of the term "open" used to describe "OpenGIS", and more recently, the term "OpenBIM". However, over time, the term "open" has diverged from its origins of "open source" and free software, and no longer connotes that the source is available. Many OpenBIM standards are copyrighted.
The buildingSMART definition
[
edit
]
buildingSMART is a well known player in developing standards for OpenBIM, and hosts a short definition of OpenBIM. The principles and benefits are copied verbatim here for convenience.
The principles of openBIM recognise that:

Interoperability is key to the digital transformation in the built asset industry
Open and neutral standards should be developed to facilitate interoperability
Reliable data exchanges depend on independent quality benchmarks
Collaboration workflows should not be limited by proprietary processes or data formats
Flexibility of choice of technology creates more value to all stakeholders
Sustainability is safeguarded by long-term interoperable data standards

The benefits for the built asset industry are that:

openBIM greatly enhances collaboration for project delivery
openBIM enables better asset management.
openBIM provides access to BIM data created during design for the whole life cycle of the built asset.
openBIM extends the breadth and depth of BIM deliverables by creating common alignment and language by adhering to international standards and commonly defined work processes.
openBIM facilitates a common data environment that provides opportunities for users to develop new workflows, software applications and technology automation.
openBIM enables an accessible digital twin which provides the core foundation to a long-term data strategy for built assets
External Resources
[
edit
]
See also
[
edit
]
References
[
edit
]