Code Aster
From Wiki.OSArch
This page is unfinished. Feel free to help the project by sharing your knowledge about this subject.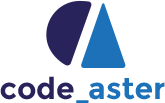 https://code-aster.org/
Code_Aster offers a full range of multiphysical analysis and modelling methods that go well beyond the standard functions of a thermo mechanical calculation code: from seismic analysis to porous media via acoustics, fatigue, stochastic dynamics,etc.
See also
[
edit
]
External Resources
[
edit
]